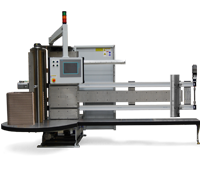 Vertical Arbor Coil Form Machine

Our coilform machines produce high-quality bends in coils. Recent innovations have provided the ability to make bends that were previously impossible when using very low-strength, enhanced fin designs. These machines will form single row coils or multiple single-row coils joined at one end.
Horizontal Drum Coil Form Machine

The Horizontal Drum Coilform Machine includes a rotating drum assembly, coil clamping mechanism, and coil table assembly. It is hydraulically operated by push-button and touch screen control. The rotating drum bending technique produces large radius circular shaped coils that leave the fins nearly free from distortion and the mechanical bond between the fin and tube undisturbed, ensuring maximum heat transfer.