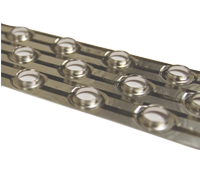 Standard Draw Type Fin Dies

The Standard Draw Type Fin Die continues to be the most popular of all fin die types. It is valued for its versatility, economy, and ease of operation. The process of forming self-spacing collars by progressive stages of drawing and redrawing permits the widest range of fin spacing of any common fin die types. In our dies this variable spacing is easily accessed by calibrated screw-wedge systems. We have the greatest depth of experience in the industry, ranging from drawing collars up to 1 1/2 fins per inch height on large patterns to drawing collars down to 4mm tube diameters on very tight patterns.
Drawless Fin Dies

The Drawless Type Fin Dies are generally used for applications in which the fin material may be too hard to form collars by conventional draw die methods. Burr Oak Tool has experience with several categories of Drawless Dies, and will gladly work with you to find the die solution best matched to your unique design requirements. Possibilities include Drawless Tab Spaced Fin Dies, Drawless Iron Extrude Fin Dies, and Drawless Pierce Extrude Fin Dies.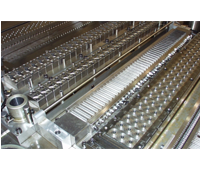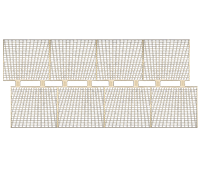 Special Purpose Fin Dies

Oak India has custom designed and built many Special Purpose Dies over the years, each individually tailored to meet a specific need. Our experienced engineering staff stands ready to assist you in finding a die that meets your requirements, even if it demands a departure from the more conventional categories of fin dies. In some cases this means a judicious blending of several design concepts.