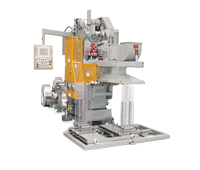 FP-1A Fin Line

The Oak FP-1 fin production line provides a reliable, cost effective fin making solution. Versions of this press are found in coil shops throughout the world, and continue to supply dependable production. This 30 ton C frame style press and line consistently produces quality fins. From reliable stock feed to damage-free fin collection, design elements lead to quality parts and longer tool life.
FP-2B Fin Line

The Oak FP-2 fin production line serves as an ideal fin making solution when intricate fin patterns are required. Rated at 60 tons, the straight side press and supporting line equipment efficiently deliver the fin stock to the press, lubricate the stock and collect the finished product for assembly into a coil.

A hydraulic withdrawal feature incorporated into the press slide gives access to the inner tooling of the fin stamping die without removing the die from the press.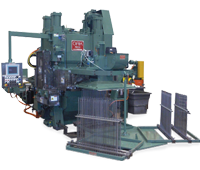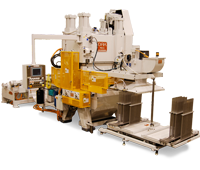 FP-3B Fin Line

The Oak FP-3 fin production line provides a high production solution for manufacturing quality fins. This 100 ton rated press provides enough stamping power for the most demanding fin designs, while remaining flexible for quick die change options. The line features new elements in stock feeding, lubrication and fin collection all geared toward ease of operation and increased productivity.
FP-1400 Fin Line

The FP-1400 from Burr Oak Tool delivers. This high performance press and line for the heat transfer industry has a 160 ton (1400kN) rating for increased manufacturing capacity.

Extensive solid modeling performed in the design stage and added weight optimizes press rigidity, resulting in more consistent product output.

Higher tensile fin stocks and more holes wont deter or slow down the 1400. Thicker materials common in refrigeration become easier to manipulate and form with the greater tonnage capacity.